I drove down to Worsley Park today to see if there was anybody sea trouting. The tide is out so I would imagine that there will be some folks here when the tide rises. This area brings back a flood of memories. The photo shows the lower end of Squires pond, Manuel's Head, the gut and Kelly's Island in the background.
I recall one afternoon, back in the 1960's, and the ice was in with a Northerly wind. Four or five of us had walked, on the ice, down to the beach. We went down to the ice flows and crawled upon one.  It was very slippery and I started to slide into the water under another pan of ice. I grabbed hold to one of my cousin's legs and pulled myself up. He got a little mad because he didn't realize the danger I was in and thought I was going to pull him in.  It was a frightening experience.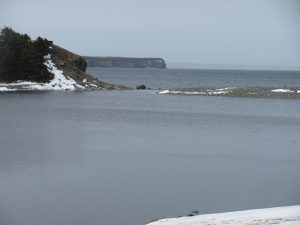 In the winter, we would play hockey. I've played many games here. I recall one spring Sunday afternoon when the temperature was around 4 degrees and we were playing in slush. There were a few holes in the ice and we would have to jump out onto the ice. We were very fortunate that nobody fell through the ice.
When my wife and I were courting, we would walk down around Manuel's River, The Flats, Squire's Pond and up the beach. There were times that we were able to cross the gut and then climb up Manuel's Head. Our walk would take us up the opposite shore of Squire's Pond or we would walk up the bank to Cherry Lane and then back to my parents home.
I've done some fishing for sea trout but did not catch any of the bigger ones. I did see some big sea trout that were caught here and some of them were entered into contests and won. Not sure if people still trout here.
My wife and I come down here during the summer for a picnic. Well, not really a picnic, we pick up a fish n chips and come here to eat it. We usually stay in the car, however; there are picnic tables scattered throughout the park.
The area from where this picture is taken is now a town park. The Worsley Center Link
This is the rock we used to sit on to put on our skates or just to relax during our walks.